Pri-8600 is a new designed automated soil flux system suit for long term multipoint soil flux measurment. A rugged, weatherproof mechanical design intergated with sophisticated software, flexible chamber configuration with multiple sensors interface, server based control unit coupled with wed APP, complete system is easy to connect to either one or more than one Picarro analyzers, like G2301, G2308, G2508, G2201-I, G2131-I, G2132-I, G5101-I. Entire system can help scientists get multiple gases flux, even with relevant stable isotope.
Key Feature
Designed for multiple gases and isotope flux research
Patented dynamic pressure balance venting system(201420354126.4)
Up to 6 channels standard gas interface
New desinged web APP for control and data analysis
Ethernet connectivity for remote application
Adjustable chamber hovering angle
Customized chamber, measured radius(Special request)
Specifications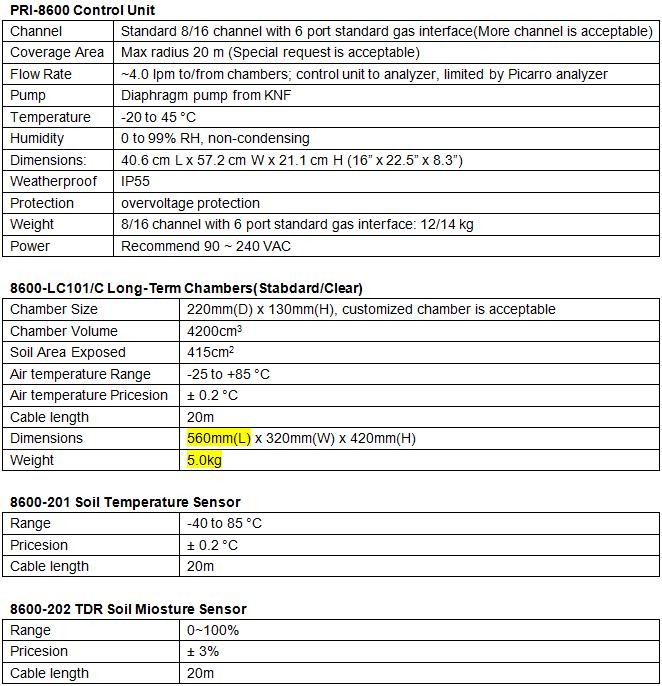 Web APP(English version is coming)
Server based control unit coupled with wed APP supply one flexible and enhanced features for complete system. It's easy to achieve most of operation by handled device coupled browser. It's easy to set up and control the complete system. You can look through real time raw data and history data with calculated soil flux data, either one gas or multi gases, concentration or coupled isotop. Isolated database allow you access to recheck or recalculate raw data.